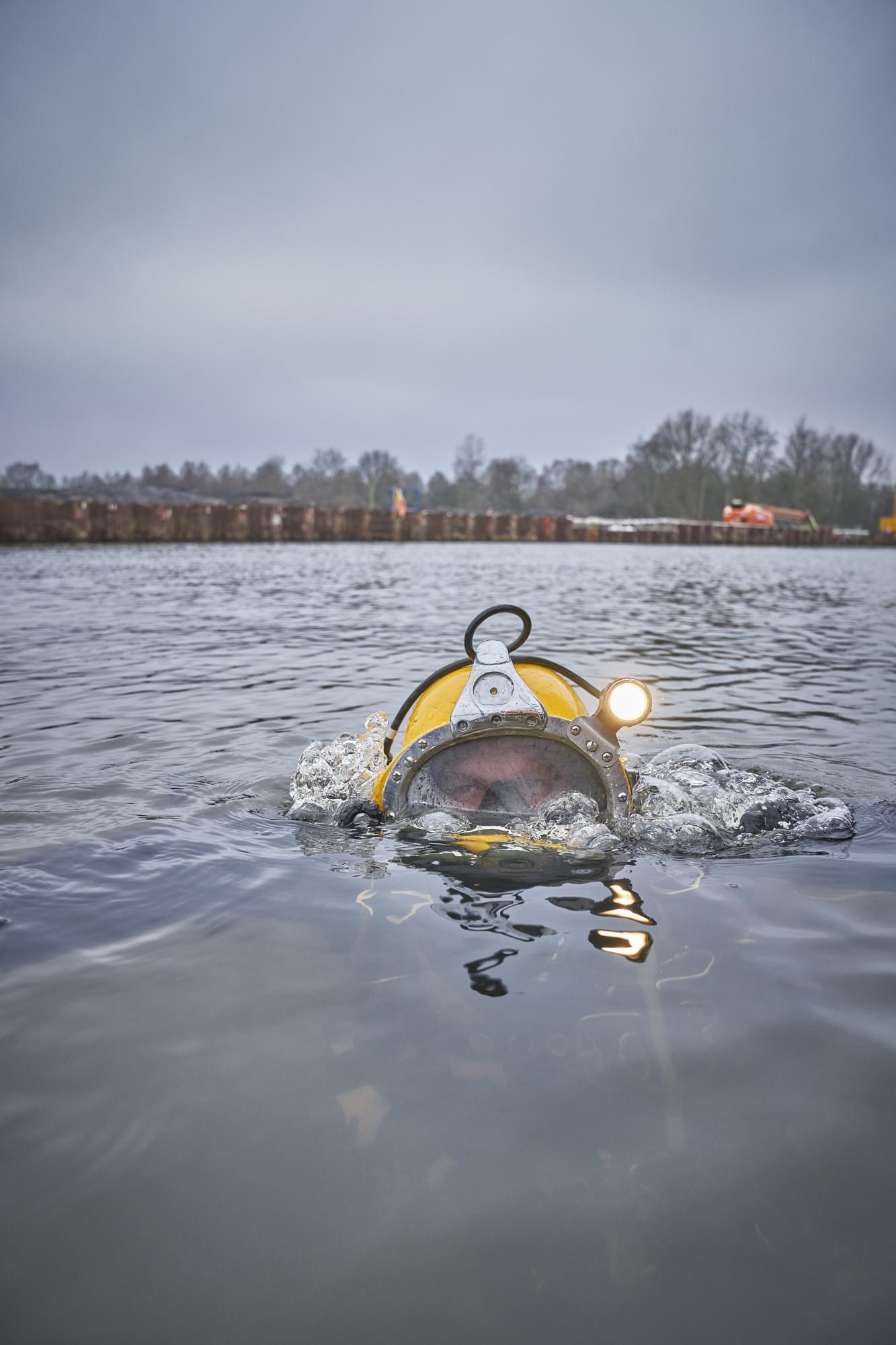 Yearbook 2022 GWW
Published on: 10/01/2023
A 'dive' into the past and the future.
The marine and underwater world holds no secrets for DISA International. The specialist in pioneering underwater solutions contributes to the most challenging projects worldwide.The GWW Yearbook provides a good time to take a look back at some of the projects realized by DISA in 2021-2022, but also to look ahead to the future. After all, the schedule is already pretty full for the next few years. 
"Since 2003, our international customer base has relied on our revolutionary solutions for the marine and underwater world," says Didier De Graaff, Managing Director of DISA International. DISA has its roots in Civil underwater construction and the removal of shipwrecks. "The knowledge we have accumulated over all built up over those years in the fascinating underwater world also proved to be very cross applicable. With our Civil Construction we have been providing underwater services since 2005 for construction, repair and maintenance of a wide variety of infrastructure projects.
" Some three years later, the offshore branch was established: C-Ventus, now a well-known name and a dedicated service provider with specialist knowledge in the field of offshore wind farms.
OPENIJ
 A great example of a project in which the pioneering underwater solutions and expertise of DISA have been of great added value, has been the construction of sea lock OpenIJ in IJmuiden. "On 12 July 2021 we reached our final milestone and thus completed all underwater work required for the construction of this extensive infrastructure project," says De Graaff. "In total, we have spent 95,190 working hours and 22,550 diving hours on this project spent with 187 DISA appointed individuals, ranging from dive supervisors, diving foremen and project managers. As DISA, we are justifiably proud to have been part been allowed to be part of this amazing and globally unique project."
BRUNSBÜTTEL
In Brunsbüttel, Germany, W&F and BAM are building a new lock complex. With more than 30,000 passing ships per year and 100 ocean-going vessels per day, it is the busiest shipping route in the world. "The hundred-year-old lock complex can no longer handle these crowds," knows De Graaff. "That is why construction is now underway on a new lock, the fifth. In terms of complexity and size more or less comparable to the sea lock in IJmuiden. Here, too, we are providing many underwater services to make the construction proceed as smoothly as possible and prevent damage to the existing locks. A wonderful project in a historic location." 
BLANKENBURG CONNECTION
 From 2024, the new A24 Blankenburg link will connect will connect the A20 near Vlaardingen with the A15 near Rozenburg. The new motorway is partly below ground level and is also largely built under water. For DISA International a monster job, mostly at great depth below the water table. "At peak times we assisted contractor combination BAAK with as many as 180 culverts," says Marc Dröge, general manager of DISA Civil Constructions. "At the Blankenburg connection the law of large numbers applies. Apart from of the enormous quantities, the big challenge particularly in the great depth of up to 32 metres below the water level. We came up with all kinds of clever solutions to deal with this deal with this, such as diving with different gas mixes and using surface decompression, so that our divers could stay underwater for longer periods of time."
GROENE BOOG
With earth walls, a half-sunken tunnel through the Lage Bergse Bos, noise barriers and noise-reducing asphalt, the energy-neutral A16 Rotterdam will be one of the best designed national highways in the Netherlands. It is also an extremely tightly directed project. For the construction of the 2.2 kilometre-long Rottemerentunnel, for example, work is being done in eleven construction pits simultaneously. With more than 100 culverts, DISA International is making a major contribution. Despite this, there is a serene calm under and above the water. "Apart from the structured diver deployment, combination The Green Bow praises our proactive attitude towards towards safe working. And as an organisation quite proud of, quite apart from the fine achievements our divers deliver every day," says John Penson, Operations Manager of DISA Civil Constructions, proudly. 
WIND AT SEA 
C-Ventus has built a nice reputation in contributing to offshore wind farms. "For example, from 2008 we provided the necessary assistance in the construction of Offshore Wind Farm Egmond aan Zee, the first Dutch offshore wind farm in the North Sea off the coast near Egmond aan Zee. And we have since actually never 'left' since, as we have have been carrying out maintenance there for almost 15 years commissioned by Shell," says Paul van Tongeren, General manager C-Ventus. Also at the 70 foundations of the new Hollandse Kust South, C-Ventus has had an important role in delivering the foundations. The wind farm supplied power to the Dutch to the Dutch grid this summer. Although the first rotating turbine is still in the test phase, it is already producing power. The wind farm is located some 18 to 35 kilometres off the coast between The Hague and Zandvoort, and should be fully operational by 2023. The above are just some of the 37 projects to which DISA International has has contributed to the last 2 years, or still delivering. "We stand for operational excellence, security and transparency to provide the highest quality. Following the ISO accreditation 2022, we have achieved Step 3 achieved on the Safety Culture Ladder. For 2023 we are scheduled to achieve Step 4. And speaking of about planning, in the coming years we are already assured of great assignments for all our divisions."