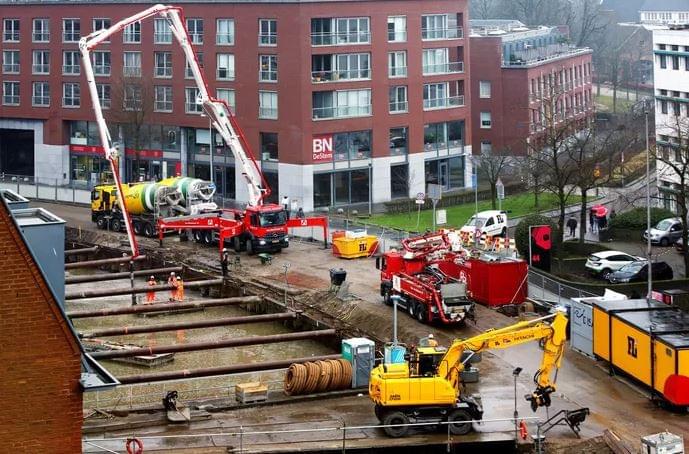 Article BN DESTEM - UNDERWATER CONCRETE SLIDES INTO THE "NIEUWE MARK" LIKE OATMEAL PORRIDGE
Published on: 17/02/2023
Picture: Pix4Profs/Ramon
Article BN DeStem 17/02/2023 / Client: Reyrink Group
DISA International 
The construction of the concrete floor for the 'Nieuwe Mark' in Breda requires a constant supply of fresh cement on Thursday 16-2-2023. In a day, 1000 cubic meters of underwater concrete flows to the bottom of the market.
READ THE FULL ARTICLE 
BN DESTEM Article
The municipality of Breda has been working on the plans for the Nieuwe Mark for years. The objective of the project? Making the city center of Breda even more beautiful. The project represents the realization of a green river through the city. The starting point is a navigable river between the city center of Breda and the river Mark. 
The work is divided into three phases, of which phase 1 has already started and will be carried out by FL BV. The activities of phase 1 relate to the water that runs from the 'Tolbrug' to the intersection of 'Markendaalseweg' and 'Karnemelkstraat'.
The construction of the Nieuwe Mark is one of the largest infrastructural projects in the center of Breda. The Nieuwe Mark is a job in which the limited space in the city center and the construction logistics are an enormous challenge. The intention is to bring the water in the existing Mark to a lower level and to realize adjacent pedestrian promenades. The quay walls are adapted in such a way that the cavity always remains moist and becomes a breeding ground for plants. The water and greenery will be brought back to the centre.
Project information of REYLINK Group - Click below