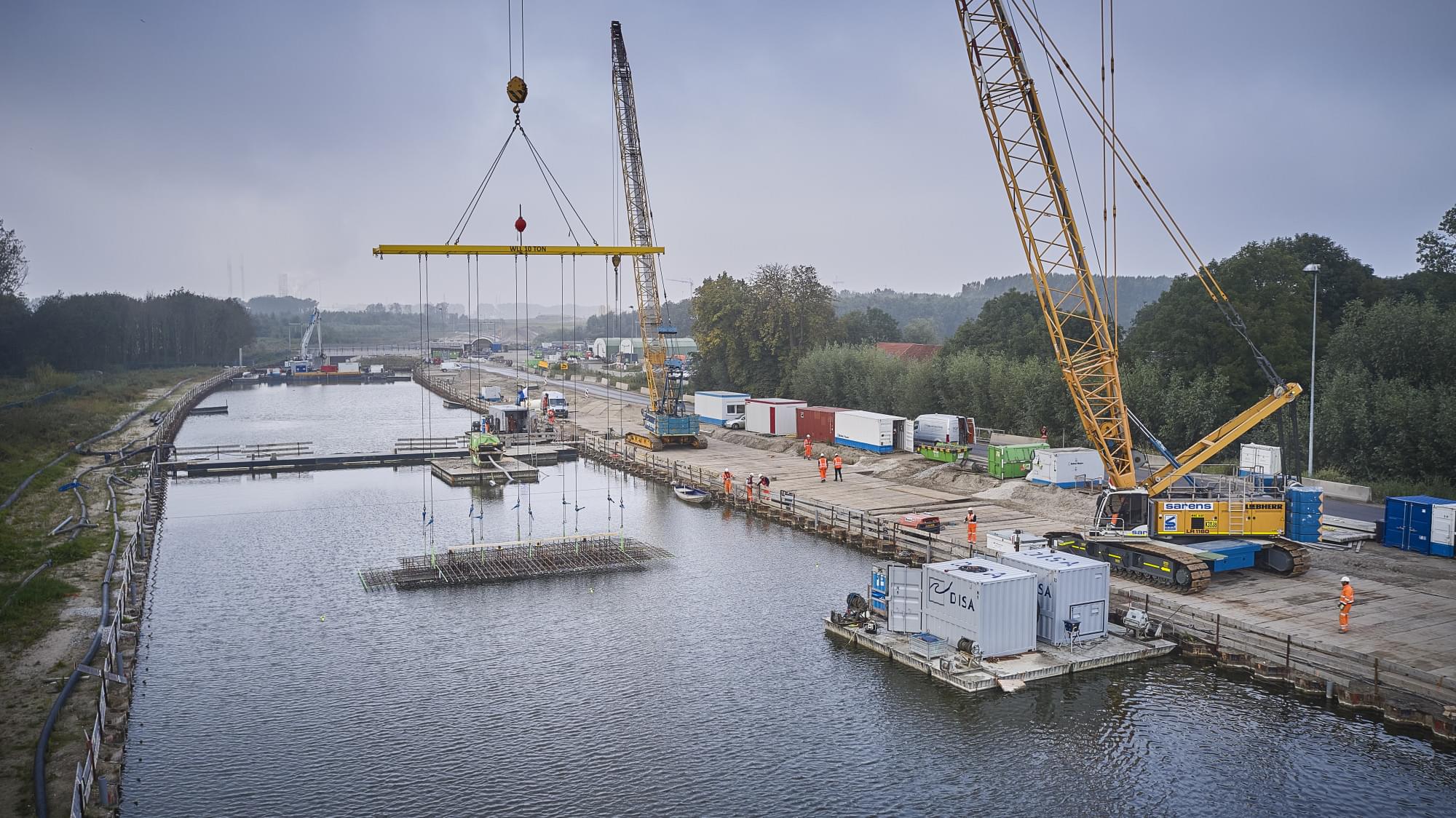 TIDAL WAVE OF DIVERS ON THE BLANKENBURG CONNECTION - Article GWW
Published on: 24/05/2022
TIDAL WAVE OF DIVERS ON THE BLANKENBURG CONNECTION 
From 2024, the new A24 Blankenburg connection will connect the A20 at Vlaardingen with the A15 at Rozenburg. The new highway is partly below ground level and is also largely built under water. For DISA International a monster job, often at great depths below the water level. At peak times, the specialist in groundbreaking underwater solutions assisted the contractor combination BAAK with no less than 180 (!) divers.  Didier de Graaff, Managing Director of DISA International and Marc Dröge, General Manager of DISA International look back on a wonderful and intensive process.
In order to be able to construct the underwater structures as efficiently as possible, BAAK had a lot of contact with DISA International in the preliminary phase. "With the Blankenburg connection, the law of large numbers applies," says Dröge.  A small summary. Until the beginning of February 2022, we spent no less than 261,822 man-hours on  the project, divided over, among other things, cleaning 10,111 m2 of sheet piling, cleaning and lengthening 11,452 anchors, another 500 pieces  of Leka and VC piles, installing 24,825 linear meters of laying beams and installing 25,000 tons of reinforcement. Finally, we installed more than 100,000 m3 of underwater concrete."
NITROX INSTEAD OF COMPRESSED AIR
Apart from the enormous quantities, the big challenge, according to Dröge, was mainly in the great depth up to 32 meters below the water level. "At this depth you have to deal with limited dive times. We came up with all kinds of smart solutions to deal with this efficiently, such as diving with other gas mixtures (nitrox instead of compressed air) and using surface decompression, so that our divers could stay underwater for a longer period of time. In addition, we have developed an inhouse system  to be able to quickly lengthen the GEWI anchors. By using a traverse in which we could suspend eight anchors each time, no valuable time was lost underwater. A handy clamping system was also developed for placing the shelves. In addition, we had a lot of practical consultations with BAAK in the preliminary phase to, for example, carry out the design of the poles that had to be extended and the reinforcement nets had to be designed as dive-friendly as possible, so that the diver had to perform as few actions as possible. That has definitely paid off in practice."
MILLIONS INVESTED
At peak times, DISA International was active day and night six days a week. In order to be able to deliver that capacity, without depriving other customers and projects, we have contacted our partners abroad. Millions were also invested in materials. "We have experienced quite a few exciting moments, in the middle of the corona pandemic," Dröge acknowledges. "Borders closed and the Netherlands turned red on the corona map. Then see if you can get the right people and resources on location in time. We have sourced the whole world in search of equipment and BAAK has helped us enormously with the coordination so that the foreign divers could be deployed quickly and efficiently without too many problems." Dröge also praises BAAK's attitude during corona. "As a result of the tightened hygiene measures, all materials had to be disinfected additionally after each dive and according to a new and special protocol. That was quite a thing, given the tight schedule. Together with BAAK, we dealt with this very professionally and we managed to keep the entire process under control until the end, all due to the discipline of our people." DISA International looks proudly at a beautifully executed project, with a very high safety score. "We don't negotiate about safety" Dröge says firmly. This huge project is not yet completed for DISA. "At the end of this year, we will burn away the trusses in the entrances to the Maasdelta tunnel at a depth of 32 metres and next year we will provide the necessary assistance with the installation of the tunnel elements."
Translated Text GWW Article | Roel van Gils | DISA International