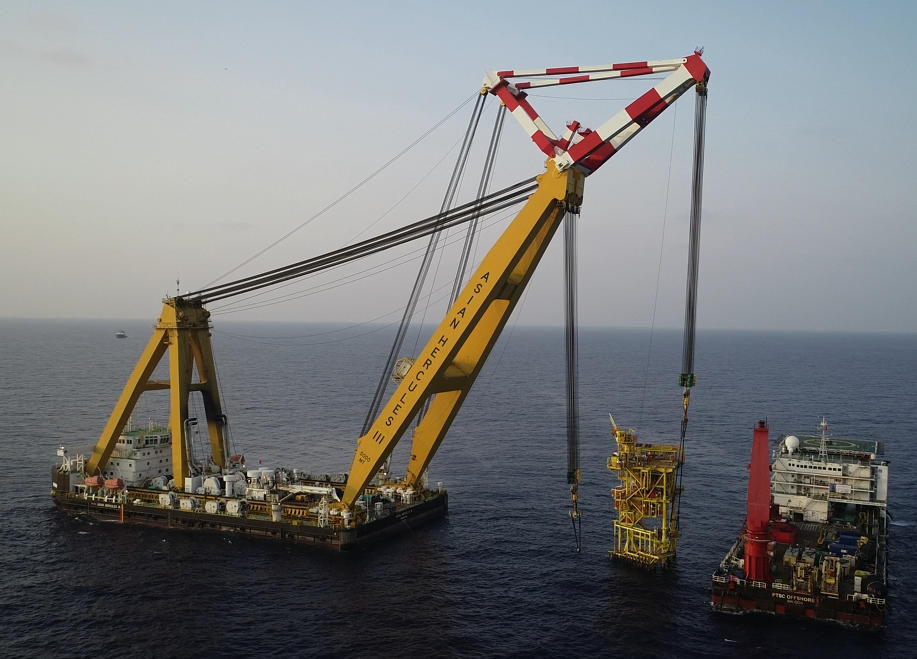 OPHIR RELOCATION PROJECT COMPLETED
Published on: 26/09/2019
Following the recent news publication on the OPHIR project published 19/07/2019, the relocation project was successfully completed by SPT Offshore.  
A suction pile wellhead platform operated by Vestigo Petroleum Sdn Bhd ("Vestigo"), a subsidiary of PETRONAS Carigali Sdn Bhd, (PCSB) was successfully removed from the Ophir field, relocated and re-installed at the Jitang field, offshore Terengganu. The successful relocation of a wellhead platform in one piece without any further structural modifications is the first in the world.
On 19th August, following several days of preparation, the 5,000 ton floating sheerlegs Asian Hercules 3 arrived on site. The suction piles were pushed out in only 4 hours before the lifting operation commenced. The sheerlegs lifted the entire platform partly out of the water while keeping the jacket submerged at 40 metres.
The sheerlegs sailed with the entire platform in the hooks approximately 50 nautical miles to the Jitang field, where the platform was immediately reinstalled. The relocation operation was completed on August 22nd due to the extreme dedication of the SPT offshore team together with its partner Redtech Offshore Sdn. Bhd., the client Vestigo, and Heavy Lift Vessel owner Asian Lift. All was accomplished within a record-breaking time of only 3 days! With this achievement we are very pleased to demonstrate the huge benefits of suction pile technology which now also includes re-usability.
PCSB, a wholly-owned subsidiary of Petroliam Nasional Berhad (PETRONAS), is a leading exploration and production (E&P) company taking on increasingly challenging projects to bring new oil & gas supplies to the market.
DISA Singapore was contracted by SPT Offshore (http://www.sptoffshore.com) to provide diving services for OPHIR Well Head Platform (WHP) relocation to Jitang field. The working relationship began on 15th of June 2019 and was completed on 21st of Aug 2019. DISA Singapore has successfully performed all underwater services required of the project, according to prevailing IMCA guidelines for diving and local law and legislation.