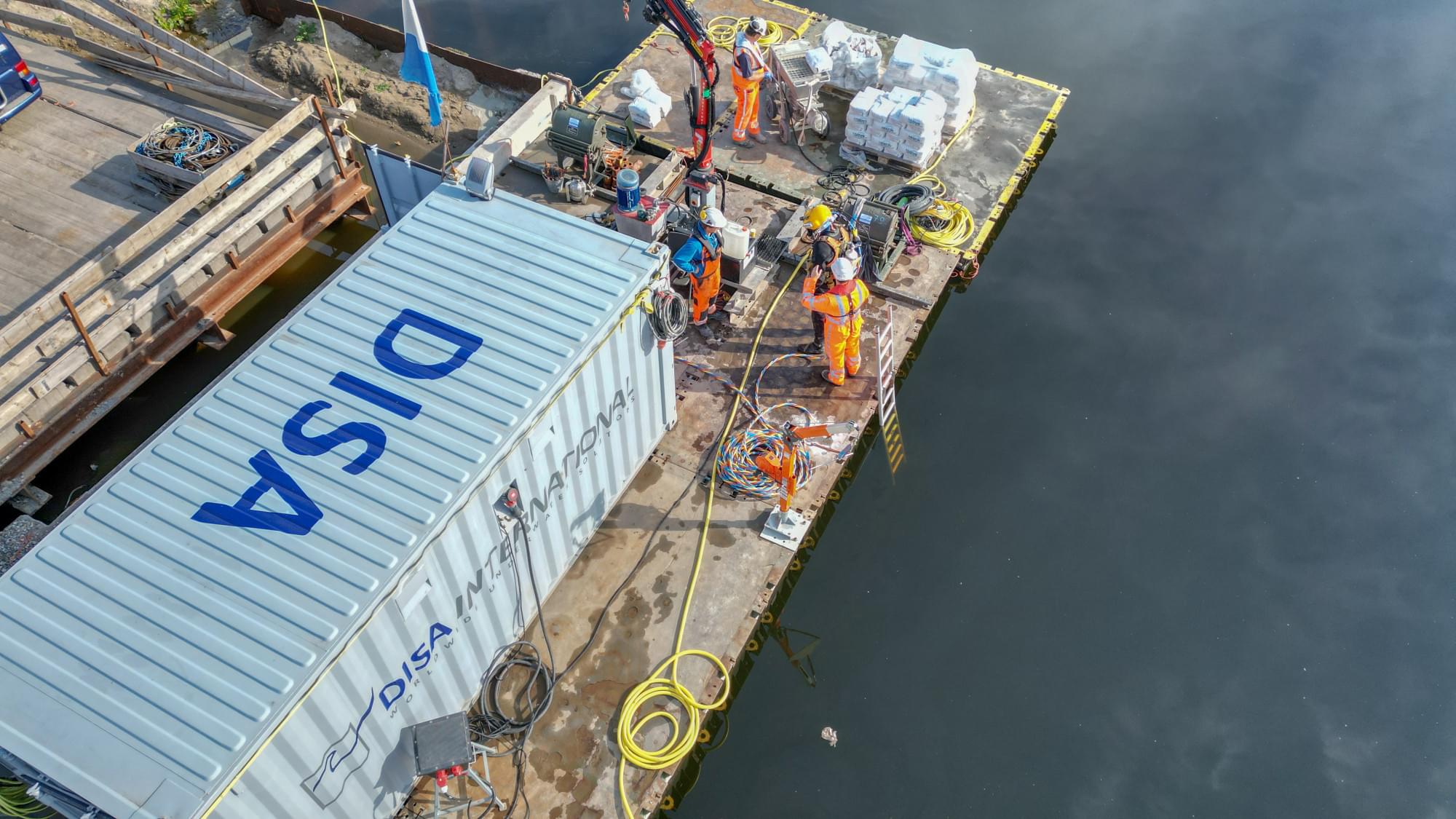 GROENE BOOG: WORKING UNDERWATER IS 100% TEAM WORK
Published on: 16/08/2022
WORKING UNDERWATER IS 100% TEAM WORK
Diving teams are indispensable during the construction of the Rottemerentunnel.
The Rottemerentunnel, part of the A16 Rotterdam, is being built by construction consortium De Groene Boog in 'underwater' conditions. This means that all the work including the pouring of the underwater concrete has to be done underwater. This highly specialised work is being carried out by DISA's diving teams. Didier de Graaff, owner and Managing Director and Marc Dröge General Manager Civil Construction at DISA, provide us a look under the water surface.
WORKING DAY AND NIGHT
"We work with 35 diving teams on average, at peak times, we even work with 42 teams, also at night," Dröge begins. "In one diving team there are three specialist divers, who work at a depth of 11 metres depth." A team has a diving team leader, a diver and a backup diver. "The diving team leader stands on the surface and supervises/coordinates the work. His responsibilities include safety of the diver who is working underwater. The backup diver is on stand-by, in case of a change of diver. In a major infrastructure project such as the A16 Rotterdam, planning is a hot item, the diving teams ensure that the follow-up work can be carried out. They ensure that the 'train' keeps moving."
De Graaff explains where the diving teams are called in: "We were already on site when the excavation of the buildingpits took place, then when the reinforcement are applied and now when the underwater concrete is being poured. We did a lot of inspections, levelled out the ground, cleaned, sawed off and installed the pile extentions. Then the gravel was installed, after which we placed the beams on which the reinforcement rests on. The reinforcement were also installed by us, including all associated activities. Next, the expansion beams are brought into place before the concrete pouring begins. The pouring takes place via concrete floaters."
THINK ALONG
At the end of the pit, a level difference was made in the soil. This to 'stop' the concrete at this specific point. In order to do so a special frame was placed in which the reinforcement are extented. The same thing is done on the other side of the building pit separation. "When at one point the temporary seperation is removed, the reinforcement can then be re-connected in the dry. We thought about this together with the client", De Graaff outlines. "This way of working has never been seen before and a direct result of a good consultation structure." DISA is known for their innovative solutions, we are more than just a diving company."
Anyone who thinks that both gentlemen are theorists is wrong. De Graaff and Dröge were themselves divers in heart and soul and know better than anyone else what divers face each day. "Long days, hard work, working at night. A lot away from home, often far away. They are passionate professionals for whom we have great respect," concludes De Graaff.
Article by Jan Mol / GWW BOUW NL