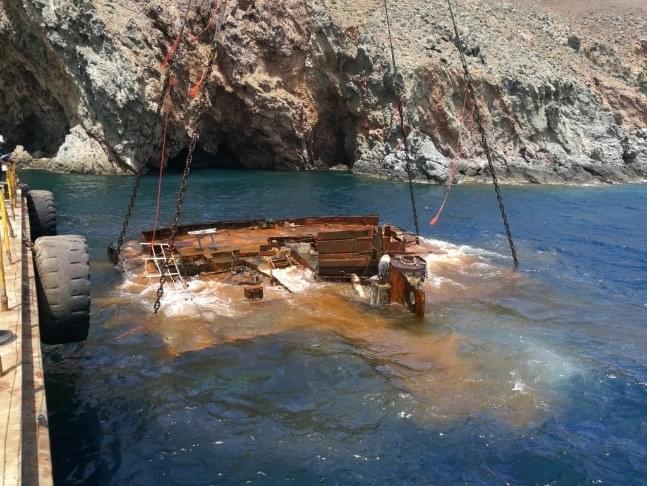 DISA received an "excellent" performance letter from the Hellenic Coastguard of Greece
Published on: 24/10/2018
DISA was awarded the removal of the MV LITTLE SEYMA sunken along the coast of the Greek Island Mykonos/Tragonesi . The work consisted on the complete removal of the wreckage including the disposal of the wreck and cargo. The entire project was engineered, executed and completed in a record time and to the satisfaction of the Greek Authorities. An excellent performance letter was issued by the Hellenic Coast guard and Port Authorities.   
DISA has safely completed, and in a very short time frame, the project and the disposal of the wreckage including any and all hazardous and non‐hazardous components according to the Greek law.
Due to the exposed location and adverse sea state caused by the local weather conditions, which were continuously changing the condition of the wreck by breaking and shifting wreck sections into deeper water, the wreck removal project was considered to be a complex and difficult operation whereby the close and professional cooperation between the Port Authorities and the Contractor, to rapidly implement measures and act on the continuously changing wreck conditions, have resulted in this safe and fast wreck removal operation.
On each activity, relevant HSSE documentation (including method statements and risk assessments) were provide by the Contractor. This documentation, in format and content, was drafted to ensure that all the activities were carried out in accordance with the applicable health, safety and quality standards in Greece. 
The wreck removal operations were completed within 2-3 months.